Can you swim to the Asian continent from Marbella? Can you move yourself to China without leaving home?
Reminding the party Goyo Catering's team participated in, it seems the answer is yes. In a private villa in Marbella, a platform was set over the swimming pool and from there a whole spectacular atmosphere was built.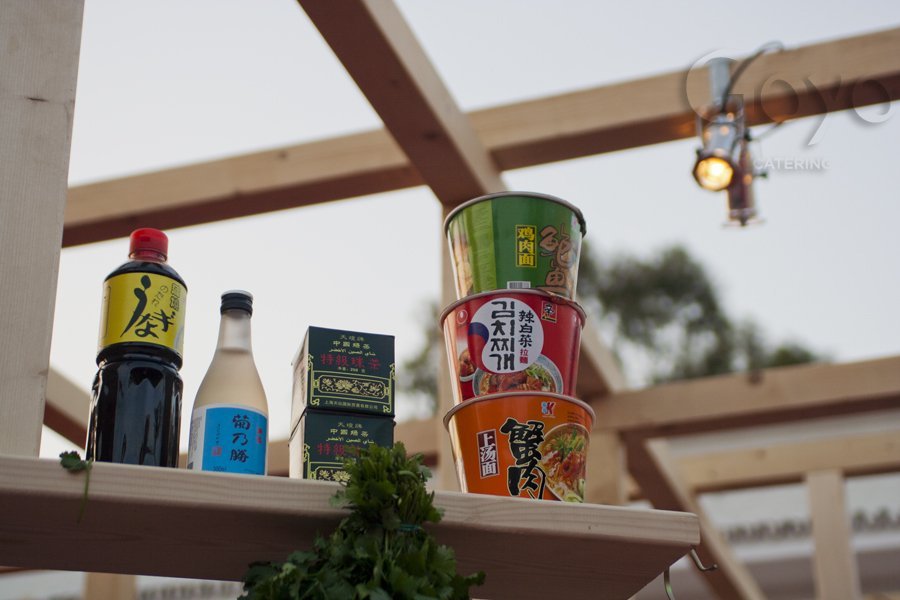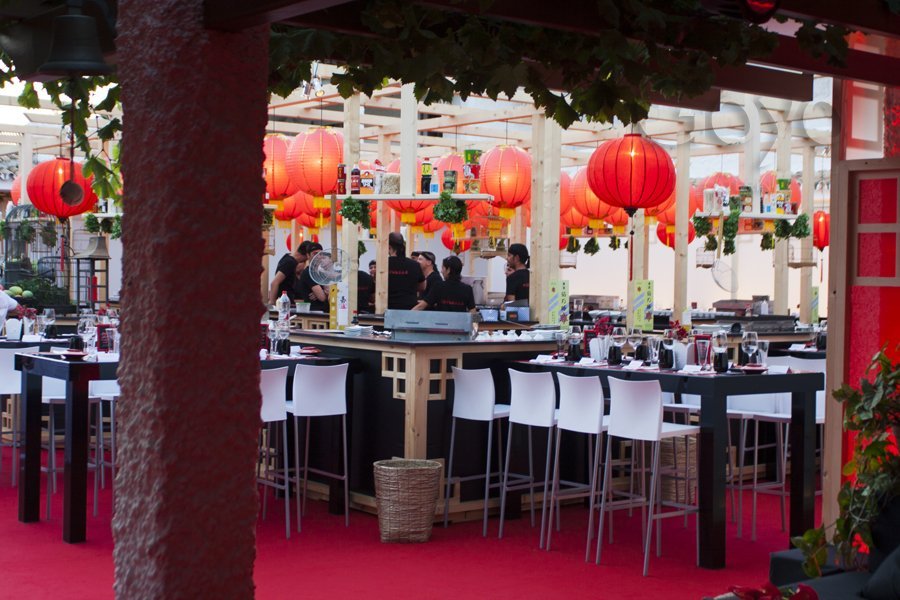 Goyo Catering's team used uniforms inspired in Asia with a specific typography for the word 'Marbella' that seemed Chinese writing. They used a red sash that made them seem warriors, although really they were authentic artists of Asian gastronomy.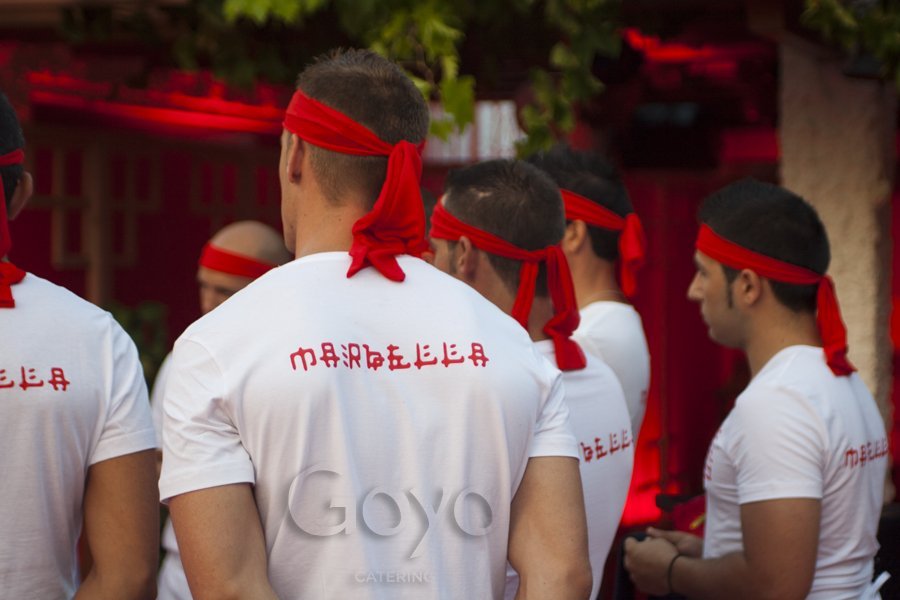 It was a challenge to transform the villa's patio into an Asian restaurant, but the truth is that all the space used for the party went through a process of change in decoration and furniture to suit the theme. The final key was the illumination. Red was the main colour but its effect was strengthen with lights of the same tone. Global Chinese lamps hanged around the kitchen and the counter, set up for the occasion, and the tables arranged to facilitate service.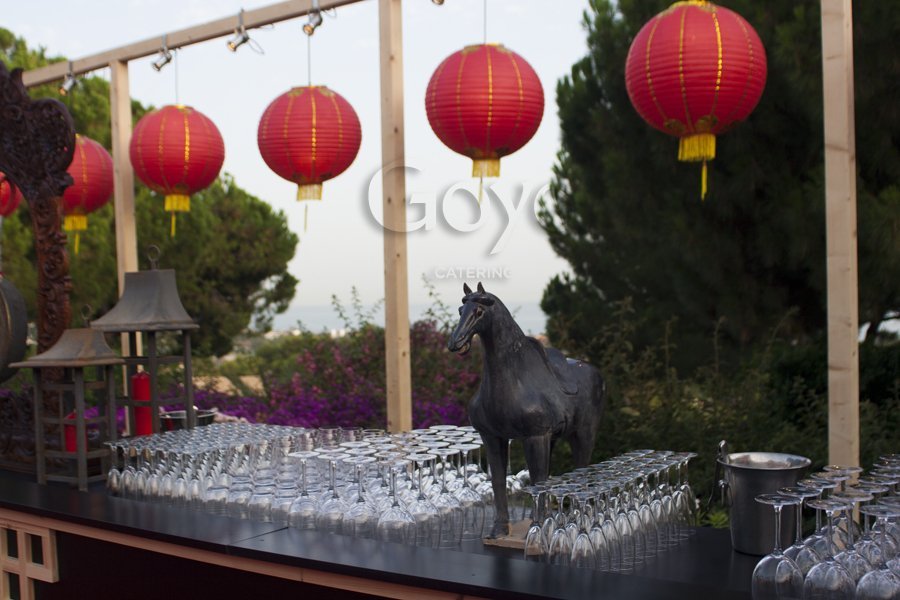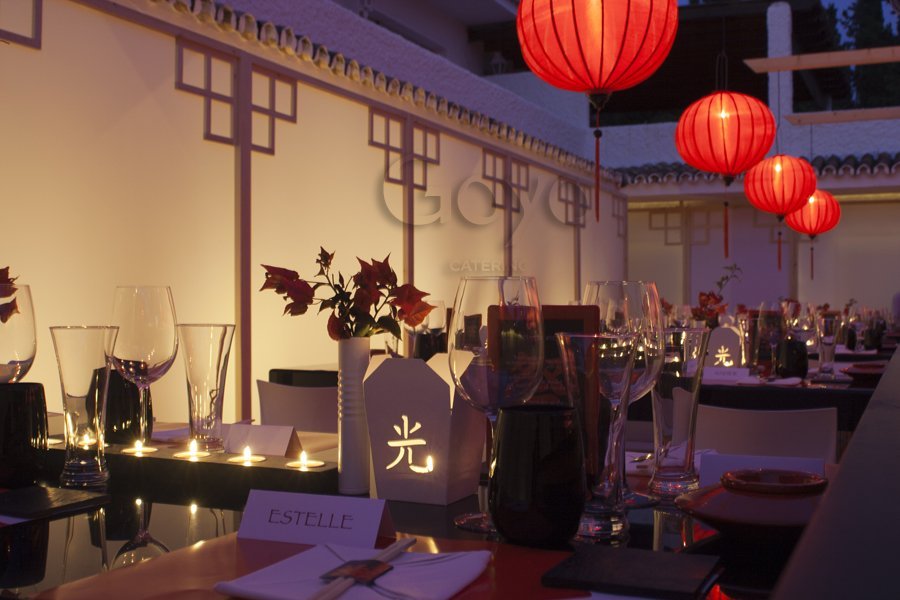 Scallop Ceviche Crystallized over Mediterranean Spiced Pipirrana with Crispy Green Rice was one of the appetizers that presented an innovative combination between Asian and Mediterranean. All the dishes were in tune with the theme like for example the selection of Salmon Maki Sushi, Californian Roll of Crab and Avocado, Sashimi of Marinated Eel, Teriyaki Sauce, Wasabi and Ginger served in bamboo boxes.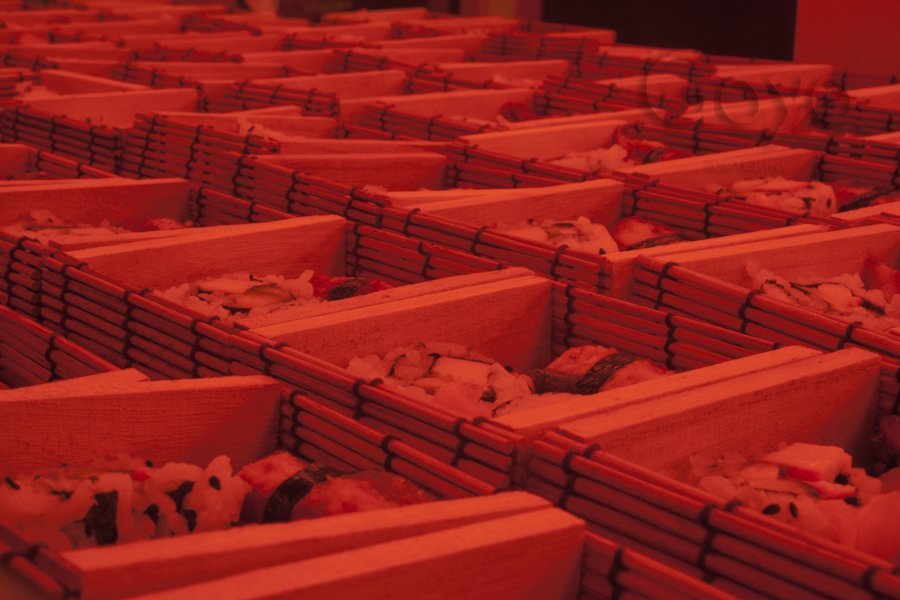 A big gastronomic attractive was no doubt the Teppanyaki. Our team of over 10 persons dressed in black, prepared various dishes like Chicken Yakitory with Tear of Coconut Milk and Peanuts or Micro Bilimbap of Basmati Rice Sauté with Vegetable Brunoise.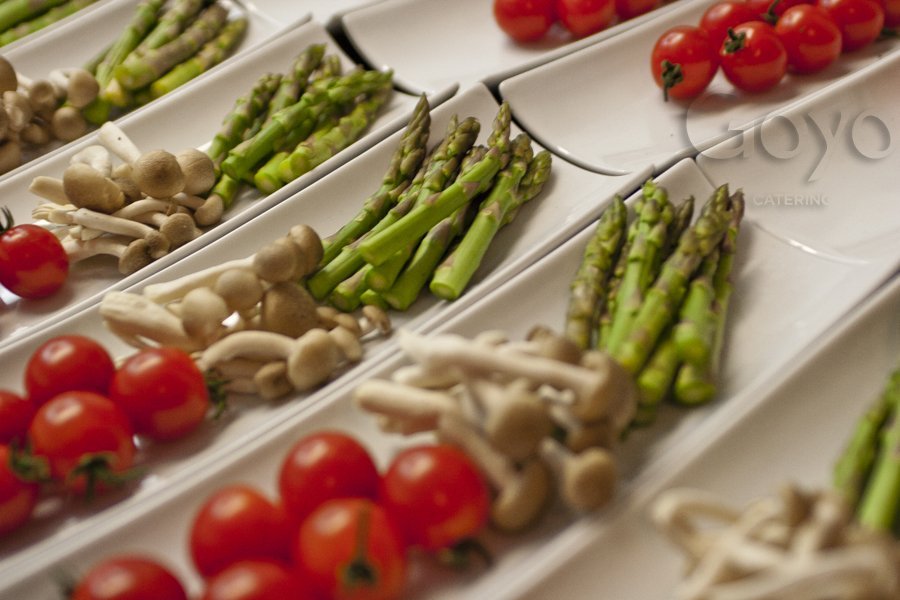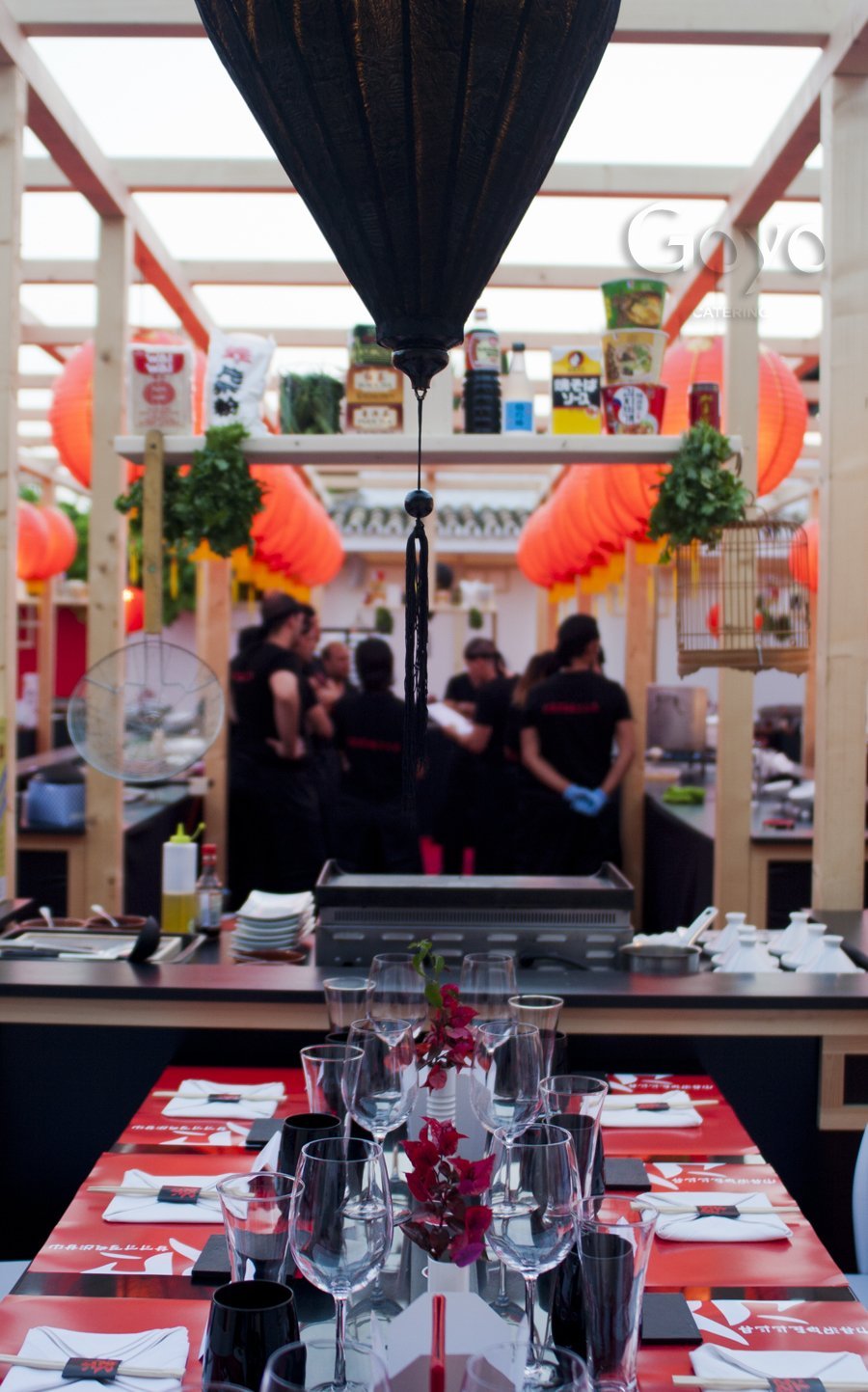 Desserts: a Duet of Oriental Icecream, a Surprise Tree with Lucky Chinese Cookies, Chocolate Financiers with Jasmine and Cupcakes decorated with Chinese Letters, amongst others. For the re-dinning a show cooking of Wok was prepared.
The usual Oriental products like sauces and liquors labelled like in their country were used for decoration. Plants, always discrete but present, a basic flower decoration for the tables accompanied with small candles aligned at the centre of the table and a Chinese food packaging were just the details needed to complete a very well schemed decoration.
The personalization of the space required extra effort at the set-up. Thanks to this, the guests not only were delighted with luxury gastronomy, different from the traditional Mediterranean cuisine and that is increasingly popular, but they were wrapped in a recreation of the best Asian scenes.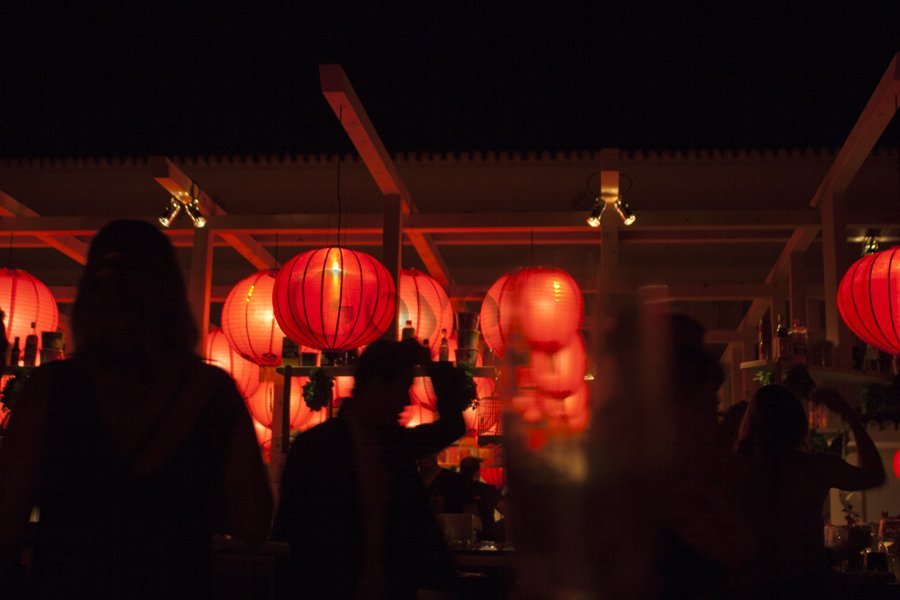 All the preparations, making of and the event itself may be seen in this video: